Meet Montana Busch - Our Founder
Master Electrician, Certified Solar Installer, President of AES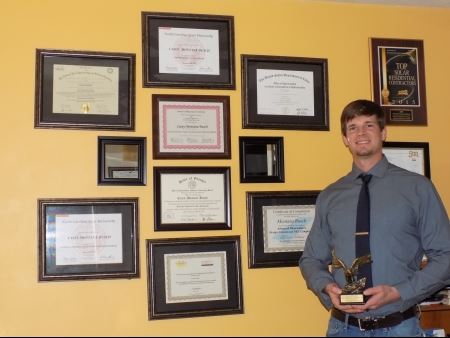 Montana Busch is the President and CEO of Alternative Energy Southeast, Inc. (AES), a full-service electrical contractor that specializes in the design and installation of renewable energy systems. He graduated from North Carolina State University with an education in Renewable Energy Technologies such as solar power, wind power, hydropower, and green building technologies. He graduated as a certified Journeyman Wireman from the 5-year apprenticeship and training program with the International Brotherhood of Electrical Workers, and he's a Georgia licensed, non-restricted Master Electrician.
Mr. Busch has known he wanted to pursue a career in renewable energy since he was 16 years old. Because of early adopters and pioneers like Montana, solar power has been able to achieve grid-parity in 48 states, including Georgia. He is a dedicated advocate for the global adoption of clean energy. He also partakes in humanitarian and environmental efforts and contributes 10% of his company's profits in order to help make the world a better place. In fact, one of the company's goals is to provide solar power for a Nigerian orphanage, a dream that was recently featured in a publication by International Brotherhood of Electrical Workers (IBEW).
Mr. Busch is a well-known solar specialist in the southeastern region. He has been working closely with commissioners, utilities, code enforcement entities, and other renewable energy and electrical contractors since 2007. It is unique that Montana is the Master Electrician and President of AES. His background gives him an exceptional handle on project design, quality control, and field operations management.
When he is not occupied by his work, Mr. Busch spends time rock climbing, working on renovation projects for his home in Lilburn, fishing, and hunting, volunteering in the community, or visiting his mother and father who live in the North Georgia Mountains.
To put our founder to work on your residential or commercial solar project in Georgia, call our offices today at (770) 691-0966.